On-Site Gun Shop
New Guns from:

> Browning.
> Beretta.
> Renato Gamba.
> Miroku.
> AYA.
> Fabarm.
> Remington.
> Rizzini.
> Sako.
> Saleri.
> MacNab.

Plus all other leading makes.

Used Guns

Hundreds of used guns available from single barrels from £30 to pairs of Purdey's at £30,000

Custom Build Service

For that special gun, any calibre, stock and engraving can be supplied. This service can also include factory visits to see your gun being built in Italy, Spain, Belgium and England. Call 01964 544357 for further details.

Air Rifles

All makes, from £50 to £1000, Air arms, Weirauch, Webley, Theoben etc.

Renato Gamba's UK Dealer

The UK 's premier Renato Gamba Dealer boasting the finest selection of Italian hand engraved guns imported exlusively to the United Kingdom..

Below is a example showing off the fine hand engraving that can be found on the Renato Gamba shotguns

Visit the Renato Gamba website by clicking here.


<Click the image below for a larger picture>




Part Exchange Welcome

Guns bought for cash.
Good quality Beretta, Browning, Miroku's always needed.

Finance Packages

Including interest free option (12 months with no interest, just pay the ticket price)

Repairs

On-site gunsmith five days per week. Collection and delivery service available.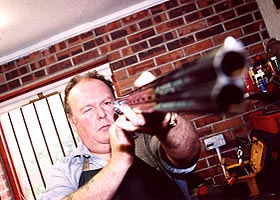 Accessories

Full range of clothing (le Chameau, Beretta, Agile). Welly's and all shooting equipment for game and clay enthusiasts can be found both at our on-site shooting shop.

Gun Cabinets

21st Century Antique gun cabinets plus std steel gun cabinet from £89 to £6000.

Farming and Commercial Supply

Humane killer equipment bought, sold and repaired.
Main dealer for Accles and Shelvoke and Cox.